Among different makeup items, lipsticks have a special place in my heart. All the colors and different finishes are so fascinating! The color combinations are endless! Lipsticks mainly occupy my kit and I like changing the lipstick I wear everyday depending on the day's mood.
In a previous post, I talked about Happy Skin's Second Skin Creme foundation
(which happens to be my HG foundation!). I was set on buying just the foundation because I already had enough lipsticks in my kit but the curious cat in me wasn't able to resist picking up the brand's lippie. Not one, but two! So before the year ends, let me review Happy Skin's Shut Up & Kiss Me moisturizing lippie and you be the judge if it will fill your gift stockings for the season. ;)
WHAT IT DOES
: (From the Happy Skin website)
Whether torrid or tame, your lips will say it all! This Happy Skin Shut Up & Kiss Me Moisturizing Lippie is sure to help you make that smackin' statement. This lip-loving moisture stick is loaded with Shea Butter and Collagen to get fans to line up for a taste of those supple, hydrated, and ultra-kissable lips. High-pigmented, and moisture-packed, this lippie glides on irresistibly smooth (without the stickiness!) and leaves behind a rich, creamy pout that's way tempting to kiss.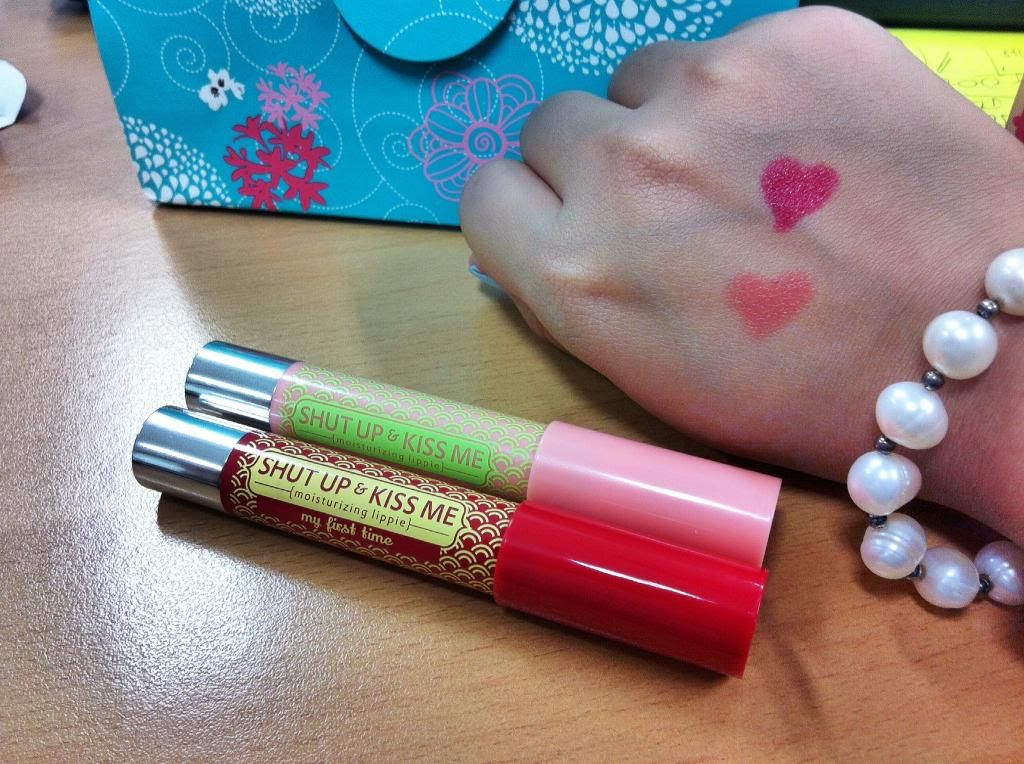 Top swatch: My First Time | Bottom swatch: My First Time
I picked up two shades:
My First Time
, a true red, and
Summer Fling
, a peachy shade.
More about my first time with
Shut Up & Kiss Me
after the break!
Shut Up & Kiss Me Hits:
1. Packaging
The lippie is encased in a sturdy tube and the cap doesn't slide off easily (no more messy lipsticks inside your kikay kit!) It's easy to twist the bullet up and down.
2. Smooth application
The moisturizing formula enables it to glide easily on the lips. I like how it doesn't settle on my lips' lines.
3. True moisturizing formula
What I appreciate most with this is the moisture it gives to my lips! I don't skip balm prior to using this but according to my sister, this doubles up as lip balm also. My lips feel soft and supple even after the color has faded away. Best of all, and why I say true moisturizing, it doesn't leave a white film on my lips. :)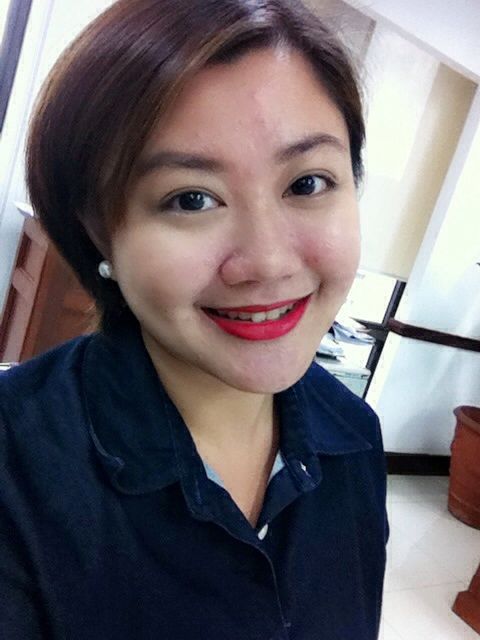 Wearing Happy Skin Shut Up & Kiss Me in My First Time
4. Excellent color pay-off
My love for color doesn't make me a big fan of sheer lippies and I love that
Shut Up & Kiss Me
delivers an opaque color on my lips with just one swipe.
I completely LOVE this.
This is on my list and I'll be collecting the 5 other shades in the line. ;) I love how it doesn't dry up my lips and provides my color fix at the same time.
Summer Fling
is my everyday staple - the color is very wearable and gives just a healthy look to the lips. I don't wear
My First Time
everyday but it's my 'comfortable red' when I want statement lips but don't like the dry feeling that MAC Ruby Woo/Lime Crime Red Velvet has.
This is perfect for beginners, those with little time and who prefer fuss-free makeup. It gives good color pay-off and makes application a walk in the park with its convenient crayon-like packaging. Think of it as coloring your lips with crayons! :)
So for that kikay friend, your
dalagita
niece, the busy professional or even for yourself, why not get one or two tubes of Shut Up & Kiss Me? :) Merry Christmas!!!