Eyeliners are just the thing of Asian ladies although I pretty much shied away from it because of my puffy undereye which tends to get dark once the eyeliner starts smearing. Ack, raccoon eyes alert! It doesn't help too that my oily lids just won't stop letting go of what I put on it (hehe!). My makeup journey, however, has showed me never to underestimate the power of a well-drawn line especially for Asian eyes. Sometimes it can make just the difference you need to complete a look! Enter my first Pixi product: the Endless Silky Eye Pen in Bronzebeam.
Though what I've said above is true, I must admit that the main reason why I bought the
Pixi Endless Silky Eye Pen
is because I saw it on one of my favorite beauty bloggers, Julia of
Bless My Bag
, and she totally rocked the smoky eye look using just the Eye Pen! Gasp! I was mesmerized by her photo and thought, 'I gotta get my hands on that pen!' After some dilly-dallying, I took the plunge and ordered it through Beauty MNL (see my previous post for
my Beauty MNL experience
).
Now, what can I say about it?
LOVE it
! And that's not just me being OA. ;-)
The Pixi Promise:
Waterproof, super-long-wear, no-smudge, no-budge eye liners. They glide on like seamless silk, and in a single sweep motion create a flawless, solid jewel-toned line. No retouching required all day - or night! Gentle on eyes, yet intensely coloured and super-silky. Waterproof. Paraben-free. Mineral oil-free. Preservative-free. Hypoallergenic.
The Verdict:
1.
Waterproof
?
Long-wearing
?
No-smudge
?
No-budge
?
Solid
YES
to all of that! I wore this once for 10 hours straight (a wedding with a good number of tears, outdoor picture taking in a hilly location, Mcdonalds stopover before the reception and finally, a few more tears during the reception; you get the picture) and it stayed with me until the end when I finally had to wipe it off. Yeah, did I mention it also survived a rainy day with matching zipline adventure. \m/
2. It starts creamy and blendable for a good number of minutes before it finally sets and refuses to budge. I actually tried to copy Julia's look but ended up only semi-successful. :p
3. If there's any con I'll have to point is that you'll have to sharpen this at some point. I'm just being lazy, I know! Haha. I've already sharpened mine and though I haven't exactly achieved its original sharpness, it performs just as well on my lids. :-)
4. Even though it's described as a 'true bronze', you can control the intensity of the color by the pressure with which you apply it. I was initially put off by its satin-y finish but it's not actually very noticeable from a distance. It actually looks less harsh than matte liners but flattering all the same.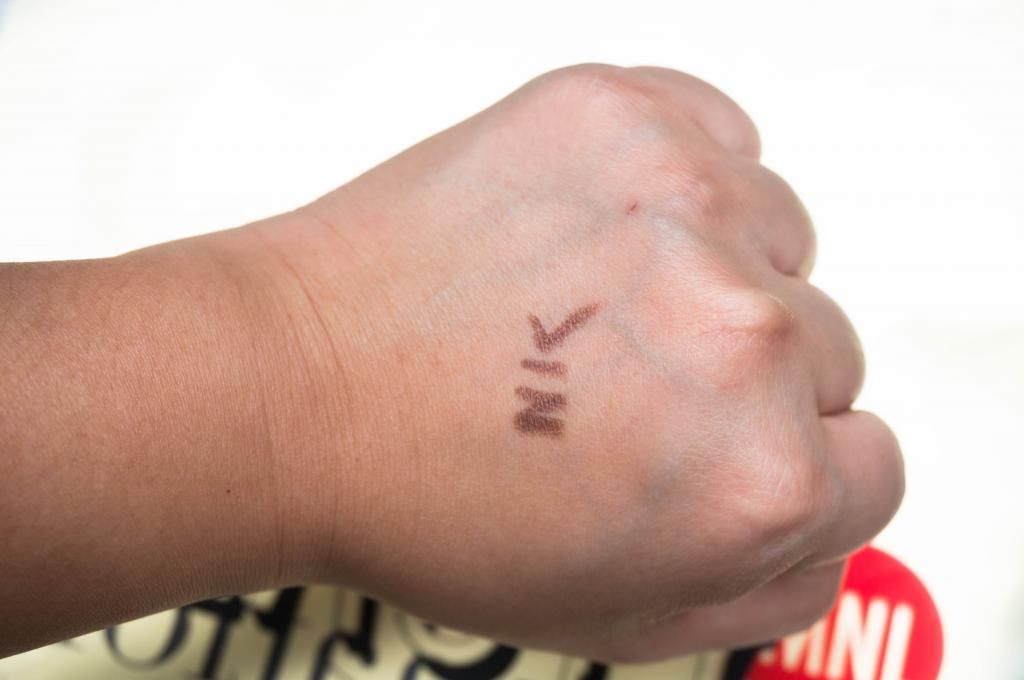 Swatching the Pixy Endless Silky Eye Pen in Bronzebeam
If the other shades perform just as well as the Bronzebeam, I just might end up getting a black one. Heehee! :)
I just realized that I have no decent photo wearing this. Hehe. So please make do with what I currently have. I'll try to update this post later with a nicer photo.:D
Wore it in a wedding
At Graphika Manila 2015
And lastly, for the curious one, what's in the Endless Silky Eye Pen?
Ingredients List