I'm getting to be quite a fan of matte nail polish albeit its so-so staying power. Of course, how can you demand for it to stay for long without a proper top coat?
With my two casefuls of polishes already, I'm hesitant to buy matte polishes in different shades. My collection is already a little too much as it is, heehee, although I would love to play with different shades. Good thing somebody came up with the matte top coat! Whoever came up with this invention, I give you three gold stars. :) (anodaw?)
Since I don't want to invest too much in this (given that I only have 10 fingernails and 10 toenails), I'm glad to have found an affordable option in
Etude House Help My Finger Matte Top Coat
.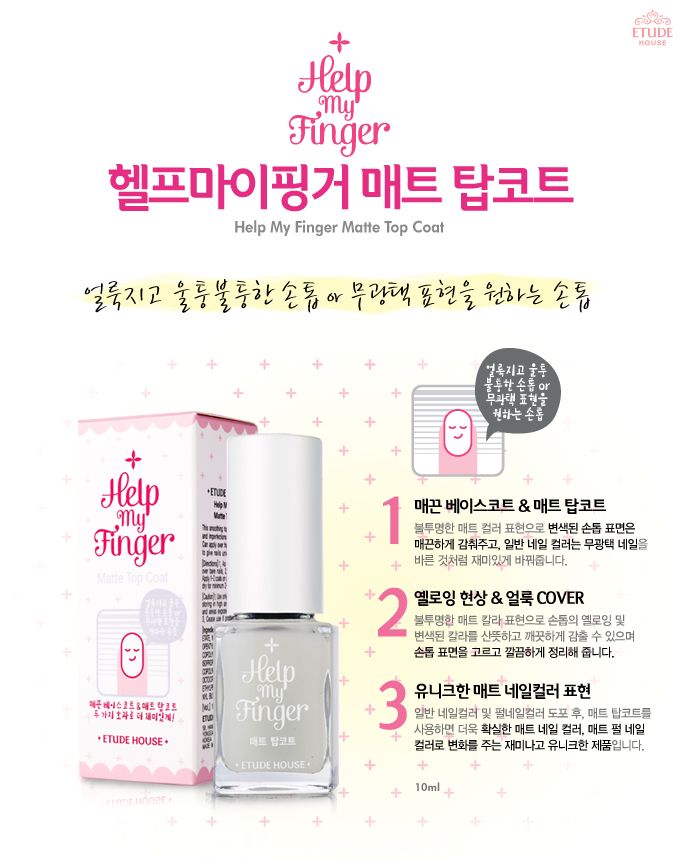 What it is:
This smoothing top coat hides ridges and imperfections with a matte finish. Can apply over high-gloss nail polish to give nails unique, matte texture.
Directions:
As a base coat, apply over bare nails.
As a matte top coat, apply 1-2 coats on dry nail and thoroughly dry for minimum 2-3 minutes.
Thoughts:
Effective and no-fuss.
It does what's it supposed to do. Check.
It dries in around a minute or two.
No messy and gunky smeared nails!
Practically priced.
A 10 ml bottle will cost you less than 300 pesos. Still cheaper than buying bottles of matte polishes.
Chemical smell.
This is something that we've all dealt with with other nail polishes but just giving you a heads up that it can give you a headache (it gave me one).
I recommend that you let your polish dry first for around 30 minutes before coating it with this just so that you're sure of the polish being completely dry.
Will I repurchase?
If I'm still into the matte fad when I finish this bottle, yes I definitely would! :)
To see Help My Finger Matte Top Coat as applied, please refer to my previous post:
Try it and enjoy being MATTE-fied! :)